See the World Tours LLC
330-793-6543


The
Caribbean Princess


"Quebec is like being in France"
1 1/2 Days in
Quebec City
Saguenay, Ca.
Prince Edward Is.
Sydney, Ca
Nova Scotia
Bar Harbor
Boston
New York City


Click Update below for
Cruise Registration, Canada Registration
Flight Schedule and Pre-Hotel
Updated August 2nd


1 1/2 Days in Quebec City
11 Day / 10 Night Cruise

Quebec/New England Cruise


August 5 - 15, 2022
Friday - Monday


Balcony Upgrades
Available



Price Reduced to




$2299

pp
(Double Occupancy)

Current Promotion


Add $400pp for


Unlimited Wifi,
Beverage Package,
Pre Paid Gratuities
&
1 Night Spec Dining
Cruise Requirements




In early July, I will inform everyone on how to complete the Cruise Registration and what we need to board our ship in Quebec. Covid Requirements are changing and in July I will update everyone on Canada's Requirements.
From Quebec to New York
Possible Add-On for 2 nights in NYC
Includes:
RT Air from CLE or PIT to Quebec, Home from NYC
Transfers from Airport/Ship/Airport
11 Day-10 Night Cruise
Entertainment, Taxes & Port Fees.
Inside Cabins (Upgrades Available)

Not Included:
Tipping & Your Personal Charges.
Shore Excursions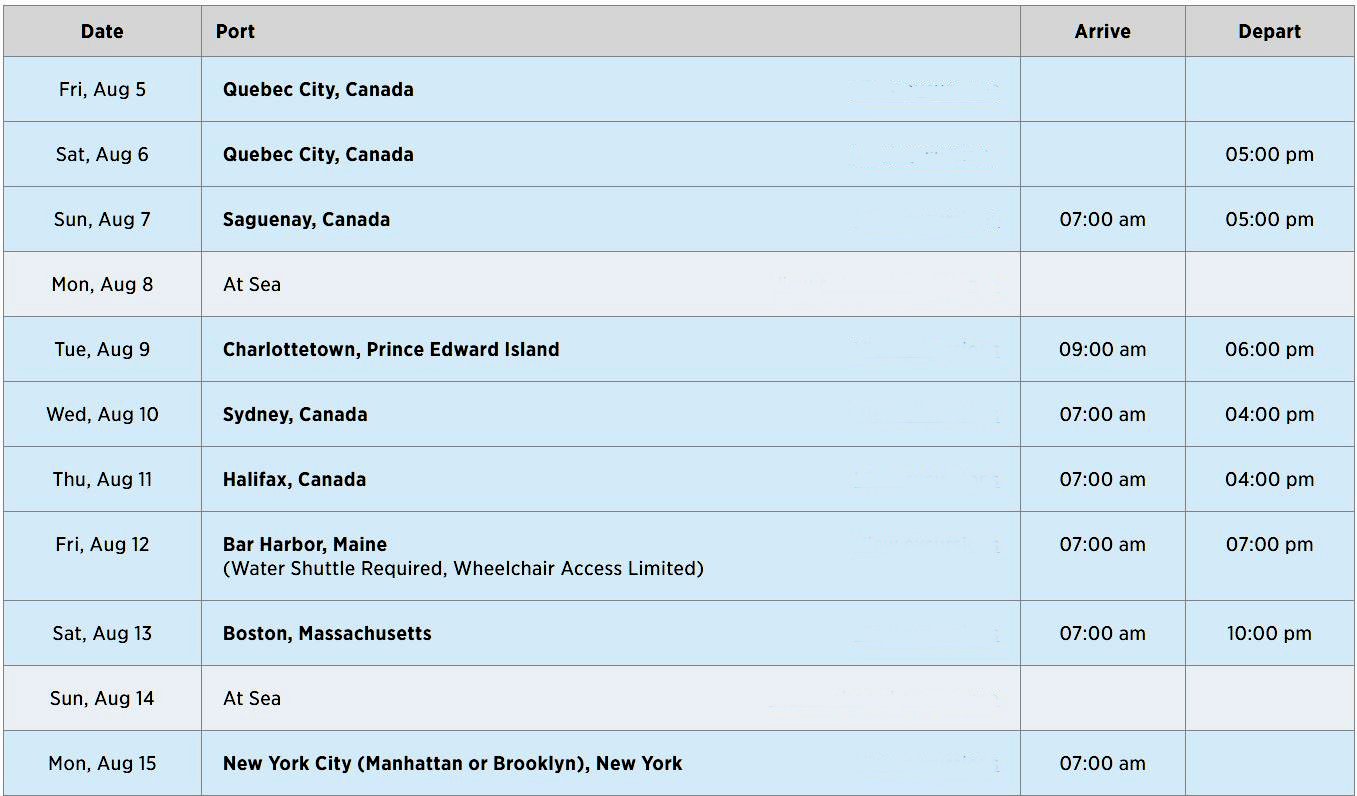 Flights from Cleveland & Pittsburgh
Pittsburgh Flights Changed on (7/1/22)
and may Change Again.
Cleveland Flights



Friday, Aug 5th
FL# UA399, Depart Cleveland 6:15am,
arrive in Newark 7:47am
FL# UA3515, Depart Newark 9:51am,
arrive in Quebec 11:43am

Monday, Aug 15th
FL# UA3552, Depart Newark at 2:59pm
arrive in Cleveland at 4:41pm




Pittsburgh Flights



Friday, Aug 5th
FL# UA3575, Depart Pittsburgh 6:45am,
arrive in Newark 8:10am
FL# UA3515, Depart Newark 9:51am,
arrive in Quebec 11:43am

Monday, Aug 15th
FL# UA3610, Depart Newark at 2:28pm
arrive in Pittsburgh at 3:59pm



Everyone Flies together from
Newark to Quebec City
For more information,
Call Sam Jordon
at
330-793-6543


Click on the World to e-mail Sam



Click Here for
"See The World Tours"
Complete Website