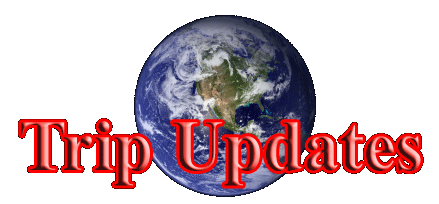 All Trips are Group Escorted Trips
Some Countries Don't Require a Covid Test
Testing & Vaccine
Requirements
are Going Away!

Call Sam at 330-793-6543 for More Details
| | |
| --- | --- |
| Music On/Off | |
Click Graphics for More Info.
Come to our

Learn what You've been Missing!
Quebec-New England Cruise
$2299

pp

11 Day
10 Night

Includes:
RT Air (CLE or PIT)
Cruise, Port Fees,
Transfers and all taxes

Click Picture above for Complete Details.
Quebec City
Saguenay
Prince Edward Is.
Sydney, Ca
Bar Harbor
Nova Scotia
Boston
New York
Sail from Quebec City, Canada
to New York City

"August 5th - 15th, 2022"

Click Update below for
Cruise & Canadian Registration,
Flight Schedule & Optional Pre-Hotel

Egypt Tour 7




$4699

pp
"September 7 - 22, 2022"

A Trip of a Lifetime
ONLY 4 Spots Left!


5 Nights at Kapama
Cape Town, South Africa & Kapama River Lodge
12 Days - 11 Nights
Final Payment Due Aug 1st
Click on Elephant for Webpage & Itinerary
Flights from CLE, PIT and most Cities
Un-Vaccinated can Now Go!
Since we are traveling to only one counrty, South Africa, Vaccinated Travelers Do Not need any Testing and Un-Vaccinated travelers with a PCR Test can Join Us on our African Safari.
With 3 Nights in Cape Town with breakfasts and tours then 5 Nights at The Fabulous Kapama River Lodge, this is a Trip "You Should Not Miss". Kapama is a FIRST Class Resort in the middle of a 35,000 acre Private Game Reserve. It's The Highlight of the trip with 10 Game Drives, Breakfasts, Lunches and Dinners All Included.
Voted The Best Trip Ever


After taking 240 people on 8 Trips to Africa many people are going back. They want me to add extra nights at Kapama. This November 2022 African Safari WILL include 5 Nights at Kapama River Lodge instead of only 3 nights.
Experience the Highest in Quality & Value!
Un-Vaccinated Can Go!
Panama Tour
Experience All of Panama
It's More than Just a Canal!
Click on Pictures above for Webpage.
Trip Includes:
RT Air from Cleveland or Pittsburgh,
7 Nights Lodging & Tours.
7 nights at The Country Inn on the Canal
5 Days of Tours with English speaking Guides
Daily Breakfasts, some Lunches & Dinners

Maximum Group size 30
28 Spots already SOLD
This will be my 6th Land Tour to Panama because Panama is Fabulous and can't be experienced fully from a cruise ship.
Panama is so much more than just a Canal. Learn about the Spanish History, a Day with The Indigenous Embera Indians, Crossing the Isthmus by train, Sailing through The Pacific Locks, Lake Gatun, the Canal and its New Expansion. If interested, let me know SOON!

Egypt 8
Un-Vaccinated can Now Go!
The Grand Museum is scheduled to
Open in November 2022.
Once Confirmed it will be Included!

"The World's Largest Museum"
Egypt Tour 8


Cairo, Luxor, Aswan & Hurghada
15 Days - 14 Nights


Taking Reservations


$4999 per person

Pictures are Worth
1000's of Words.
Click Link Below


Egypt is Fabulous.
10 Spots Already SOLD
"April 20 - May 4, 2023"
Spain-France-Italy


May 25 - June 4, 2023





8 Day-7 Night Cruise



2 Nights in Barcelona Hotel
(est Price: Low $3000's)

Iceland Cruise


July 15 - 27, 2023





Amsterdam, Norway & Iceland



Overight in Reykjavik
(est Price: Mid $3000's)
| | |
| --- | --- |
| 12 Spots Already SOLD | 24 Spots Already SOLD |
Are you ready to

Sign Up Early!
Don't be left sitting on the Fence



Every Trip is Filling up FAST!
Don't Wait!
Trips Sell out FAST!
We have Singles (Male & Female)
that need Roommates for ALL Trips!

Want to Travel with us?
Call Sam at 330 793 6543

Come to our



Meet Past Travelers and Possible Roommates!