Egypt 7 Update
Everything is Booked and Ticketed
We are Ready to Go!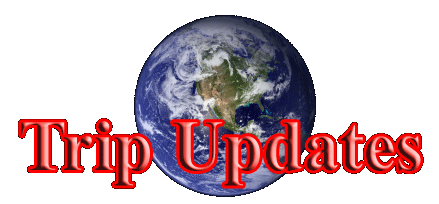 Click on the World to go to Web Pages.
Please consider purchasing Trip Delay & Trip Medical Insurance.
Click Here for Travel Insurance Information.

Travel Medical Insurance
Myra has put together a Group Policy for $25pp.
Call her at 877-515-9055.




To Fly to Egypt
Updated on July 15, 2022
After questioning Egypt Air about what I read online,
below is the Email I received on July 15th.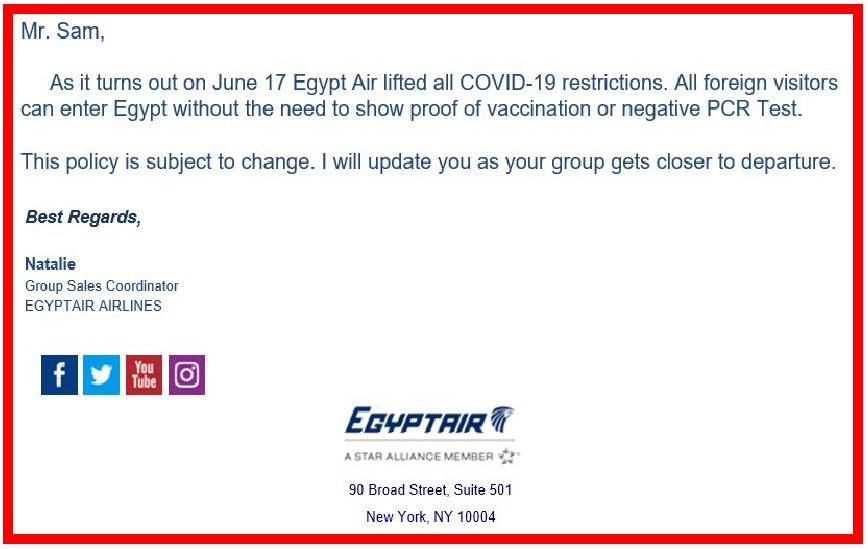 Click Here to read Egypt Air's Posting online.
Make sure you arrive at your Airport Early.
| | |
| --- | --- |
| | &nbsp On September 7th, please check in with Sam at the Delta Desk in the Cleveland Airport before you go through security so I can make sure I have everyone. |
(Only 40 lbs for your Checked Luggage)
Flights to JFK for our flight to Cairo
(Flight Numbers and Times Updated 6/14/22)
Cleveland to JFK


Wednesday, Sept 7th
FL#5638, Depart CLE 11:30am,
arrive at JFK 1:14pm

Thursday, Sept 22nd
FL#5043, Depart JFK 8:50pm,
arrive at CLE 10:53pm


Denver to JFK


Wednesday, Sept 7th
FL#876, Depart DEN 6:25am,
arrive at JFK 12:17pm

Thursday, Sept 22nd
FL#1492, Depart JFK 7:59pm,
arrive at Denver 10:45pm


Detroit to JFK


Wednesday, Sept 7th
FL#5452, Depart DTW 10:00am,
arrive at JFK 11:46am

Thursday, Sept 22nd
FL#4654, Depart JFK 7:25pm,
arrive at Detroit 9:56pm

Passengers from Cleveland:
Sam, Lorraine, Georgie,
Sandy & Kay, Dennis & Lisa
Larry & Maggie, Dave & Jolene
Val, Bob & Carl

Passengers from Denver:
Gary & Rhonda


Passengers meeting us at JFK
on September 8th at 1:30pm:
Craig & Jill and Olivia
Passengers from Detroit:
Lionel & Susan




On Sept 7th,
Pick Up your luggage arriving at JFK then
Go To the area for The Hotel Shuttles.
Take the Shuttle to The Crowne Plaza JFK.

On Sept 8th,
We will take the shuttle to JFK at noon
to check in at the Egypt Air Desk at 1:30pm
Egypt Air Flies out of Terminal 1
Passport
Required

Everyone is on these Egypt Air Flights
(Flight Times Changed on July 8th)


JFK to Cairo




Thursday, Sept 8th
FL# 986, Depart JFK 5:15pm,
arrive Cairo 9:45am

Monday, Sept 12th
FL# 064, Depart Cairo 8:00am,
arrive in Luxor at 9:05am

Thursday, Sept 22nd
FL# 043, Depart Hurghada 5:30am,
arrive in Cairo at 6:30am
FL# 985, Depart Cairo 9:00am,
arrive at JFK at 2:40pm



Passport
Required


Arriving back to JFK
Pick Up your luggage and
bring it to Delta Airlines for Check-In
for Flights Home.




..............................................................................................................



Optional Hotel before our Trip




Book your room early to get our group rate.

Hotel in Cleveland
the night of Sept 6th


Our flight out of Cleveland departs at 11:30am and we need to be at the airport NO Later than 9:30am on September 7th.
We have optional hotel rooms for the night before departure which includes FREE parking and shuttle.
If interested, call 440-243-4040 to make your reservation. Make sure you book under "See The World Tours"




Click Logo below for Direstions

7230 Engle Road
Middleburg Heights, Ohio 44130





Hotel in New York
Crowne Plaza JFK


Our flight out of JFK departs at 5:15pm and we need to be at the JFK Airport NO Later than 1:30pm at Terminal 1 on September 8th at the Egypt Air Desk for check in.
The Crowne Plaza JFK has been paid by me to secure the rooms ($232 per room, taxes included) $116pp. You can sent Sam a check or pay him in person. At check out we will take the shuttle to the airport.




Click Logo below for Direstions

13810 135th St.
Queens, New York 11436
Click on the World
to E-mail Sam at